My beautiful, sweet, amazing friend just told me she joined Weight Watchers, and I found myself wanting to do everything I could to help her make the most of it. Having to completely overhaul your diet can be so discouraging, especially if you're someone who thought she already ate pretty well, like I was. So I wanted to pull together this list of foods as a quick reference for anyone who's trying to improve what they eat.
1. Instead of cow's milk, try nut milk.
The disappointing thing for those of us who grew up drinking cow's milk with every meal is that it's not the healthiest, nor is it low in Weight Watchers SmartPoints. A cup of 2% milk is 5 SmartPoints, while a cup of cashew milk (my current favorite) is 1 SmartPoint. I use cashew milk in my coffee because I've found it to be creamier than almond or coconut milk, and I actually prefer it to cow's milk now.
2. Instead of eggs, try egg whites.
This is a hard one to swallow, especially in baking, where the egg yolk lends chewiness and fluffiness to cookies and cakes. But, an egg is 2 SmartPoints, and THREE egg whites are 1 SmartPoint (1 or 2 egg whites are 0 SmartPoints). When a recipe calls for two eggs, I usually use one egg and one egg white. For omelets I try to use all egg whites; when I'm making waffles or pancakes, I stick with egg whites. You can buy egg whites only now; they're in a carton next to the eggs in the Dairy section.
3. Instead of mayonnaise, try light mayonnaise or vegan mayonnaise.
My personal favorite mayo substitute is Just Mayo Light. 1 T is 1 SmartPoint versus 1 T of regular mayonnaise for 3 SmartPoints. I don't use it often, but light mayo a lifesaver in things like summer pasta salads, and it's great for adding 0 points of flavor to a turkey burger.
4. Instead of sour cream, try fat free Greek yogurt.
I've been doing this for a while as I've never liked the idea of sour cream (it says "sour" right there in the name!) and I find fat free Greek yogurt to be a great substitute. I like putting fat free Greek yogurt on my chili, quesadillas, even on fruit crisp. At 3 SmartPoints per cup, it's a huge savings over regular sour cream, which packs 21 SmartPoints for the same amount.
5. Instead of ice cream, try Halo Top.
HaloTop is kind of an anomaly to me. I have nothing in my formerly full-fat life to compare it to. It's icier than regular ice cream, but if you let it sit out for a few minutes (or microwave it, like I do), the consistency improves. The flavors are a little sharper, like the Vanilla, which was a little too sweet for me, or the Chocolate, which somehow tasted powdery. I love the Mint Chocolate Chip and Birthday Cake, though. And at 2 SmartPoints for half a cup, you can't beat it. Most of my favorite regular ice cream flavors are 8-10 SmartPoints per half cup, and if you're doing Weight Watchers don't even LOOK at one of those cute little containers of Häagen-Dazs—more SmartPoints than you would believe!
6. Instead of a Starbucks Frappuccino, try a coffee protein shake.
I shared my copycat Frappuccino protein shake recipe a while back, and while I've been heavily into the peanut butter protein shakes these days, that one will always be a favorite. It measures up at 4 SmartPoints, while a Grande Mocha Frappuccino with 2% milk is 21 SmartPoints. Try my protein shake, or better yet, try making your own!
7. Instead of Bisquick, try Kodiak Cakes Power Cakes Flapjack and Waffle mix.
I use ⅓ cup of Kodiak Cakes mix for my morning waffle, which costs me 3 SmartPoints. I top the waffle with enough fat free Cool Whip and mini chocolate chips that I don't really care how good it tastes, so while I'd prefer to be making my traditional Bisquick recipe (5 SmartPoints per ⅓ cup), this one is fine. Plus, the protein in the waffle keeps me full until lunch, something Bisquick never did.
8. Instead of sugar, try honey, maple syrup, agave, ripe bananas, sucanat, or stevia.
There are so many good sugar substitutes, and so many bloggers who are using them to make incredible recipes. Check out any recipe from Chocolate Covered Katie and you'll see what I mean. Sally's Baking Addiction also has this AMAZING recipe for banana chocolate chip muffins that uses only bananas and agave for sweetness. They taste exactly like chocolate cake. I know, I know, I've said it before. But please go make these—SO YUM.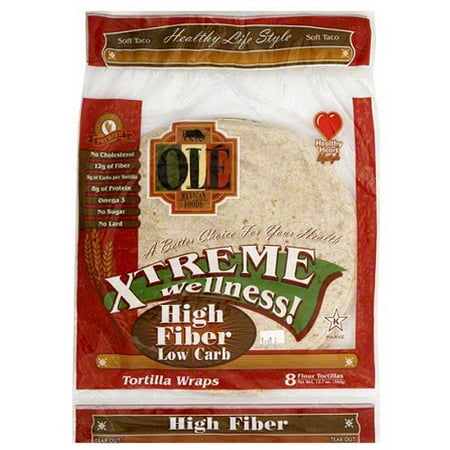 9. Instead of flour tortillas, try an Ole Wellness Wrap.
I love a good quesadilla, and while I've definitely gotten away from frying mine in butter, I still want a wrap that tastes good. The Ole Wellness Wrap doesn't have the same fluffiness as a flour tortilla, but it's close, and at only 1 SmartPoint per wrap (versus 4 SmartPoints for a medium flour tortilla), you can afford to eat more than one!
10. Instead of regular pasta, try whole wheat.
This may seem like a big jump for some of you, but once the pasta's cooked and sauced, it's hard to tell the difference between whole wheat and regular. Both clock in at about the same amount of points (5 SmartPoints for 2 oz uncooked whole wheat penne vs. 6 SmartPoints for 2 oz uncooked regular penne), but whole grains are healthier for you and take more time to digest, which means you'll stay fuller longer. Seriously, this is an easy switch and as a grownup, you should have already been doing this anyway.
11. Instead of white rice, try brown.
Same idea as above; the less processed the food, the better it is for you. 1 cup of medium-grain brown rice is 6 SmartPoints, while 1 cup of medium-grain white rice is 7 SmartPoints. Again, the difference is negligible, so why not choose brown rice?
12. Instead of Butternut bread, try Sara Lee 45-calories & Delightful.
The switch here was life-changing for me. I love wheat bread, but Butternut's Honey Wheat is 2 SmartPoints per slice, while a slice of Sara Lee 45-calories & Delightful Honey Whole Wheat is only 1 SmartPoint. This may not seem like much, but saving two points makes a HUGE difference when you're making a sandwich and want to add many other delicious things besides bread, like meat, cheese and mayonnaise. After I discovered Sara Lee Delightful, I could finally relate to Oprah and eat bread every day without feeling guilty.
13. Instead of chips, try popcorn.
Chris and I used to share a bowl of Chex mix every night on the couch after the kids went to bed. After that we'd have ice cream, or maybe some wine. While I love Chex mix and pretty much all kinds of chips, I knew I couldn't keep up the habit on Weight Watchers. A cup of original Chex Mix is 8 SmartPoints, while a cup of light butter flavored popcorn is 1 SmartPoint. I realized that all I really wanted when I was eating Chex Mix was crunch and salt. Popcorn satisfies my cravings just as well, and for a lot fewer points!
14. Instead of your favorite frozen pizza, try DiGiorno Thin & Crispy.
Pizza is soooooo many SmartPoints, and as a result I've only had it twice since I've been on Weight Watchers. Before you start feeling sorry for me, you'll be glad to know I recently discovered DiGiorno Thin & Crispy pizzas. Their Tomato Mozzarella with Pesto is only 12 SmartPoints for HALF, which is just about what one slice of a normal pizza would be (oh, how I miss you, Papa John's!). Plus, it actually tastes good.
15. Instead of hot dogs, try chicken dogs.
A regular hot dog is 6 SmartPoints which is fine for dinner, but I've found they don't really fill me up and I usually want at least two. Two hot dogs plus buns would cost me over half of my daily SmartPoints budget. So instead I eat Trader Joe's Uncured Chicken Dogs, which are only 1 SmartPoint each. I'm actually full after eating only one, and my kids love them too.
16. Instead of regular bacon, try center cut bacon.
I don't eat bacon often, but when I do, I don't want it to cost me too much. Center cut bacon is only 1 SmartPoint for TWO slices, compared to regular bacon at 8 SmartPoints for two slices. It definitely makes a difference when we have breakfast for dinner (or heck, bacon at breakfast), and it's healthier for all of us.
17. Instead of store-bought cakes/pies/brownies/muffins/donuts, try homemade.
If you follow me on Instagram you know I bake a lot, and that's because I love me some sweet treats. What I don't love is how many points they are! My favorite scone at Starbucks is 19 SmartPoints, and I used to eat that for breakfast with a White Chocolate Mocha (23 SmartPoints!!!). So while I haven't figured out how to bake a lighter scone, I think I've mastered muffins and bars. If you're looking for a place to start, I recommend these Unbaked Cookie Dough bars, these Pumpkin Chocolate Chip Blondies, and these Peanut Butter Banana Muffins.
Anything you would add? Let me know in the comments below!